Serving boat owners and enthusiasts since 1998 from the same location, Gilmore's N. Star Upholstery brings three generations of family expertise in marine canvas and upholstery. Everything we produce is custom designed and fabricated to your specifications.
Marine canvas is a specialized occupation, especially in Western Washington. I love this industry and seeing my customers leave satisfied makes it worthwhile.
---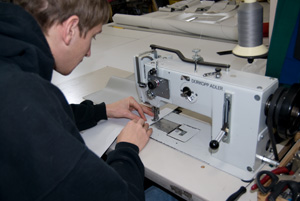 Gilmore's N. Star Upholstery has a distinct history unlike any other marine canvas company in the region. We date back to the early 1960s when my father, Bob Gilmore, started Squalicum Upholstery in Bellingham. He sold that company in the late 1990s and I started Gilmore's N. Star Upholstery in 1998 in our current location in Ferndale, WA. I learned from the best honing my design and manufacturing skills over the past 40 years.
---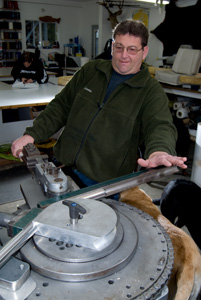 We are dedicated to crafting quality products that will preserve and protect your boat while pleasing the eye.
Gilmore's N. Star Upholstery continues to provide its customers with the same individual attention, quality products and fair pricing that started nearly 60 years ago.
We invite you to visit us in Ferndale, Whatcom County or call us to speak to one of our professionals about your marine canvas and upholstery needs.
Rob Gilmore
Owner, Gilmore's N. Star Upholstery
Ferndale, Washington
---
Frequently Asked Questions
Who are your customers?
Everyone! Our customers include new boat owners, high-end clients and everyone in between. They come from Whatcom County and throughout the Puget Sound region. We have customers in Canada as well.
What are your prices on estimates?
We offer free estimates.
How do you get the measurements for my boat?
We come to your boat and take measurements to custom design all of your marine canvas needs. We recognize that there are many boat designs, so we take the time to do exact measurements. Nothing is pre-fabricated.
What products do you use?
Gilmore's N. Star Upholstery uses only top quality products in the marine canvas industry. We recommend Sunbrella® brand fabrics for most canvas applications. We use Makrolon AR polycarbonate for windows along with Regalite clear plastic and Strataglass. Our framework is heavy wall stainless tubing.
How can I be assured of your level of workmanship?
Because we combine three generations of expertise in marine canvas design and manufacturing, Gilmore's has an edge on any local competitors. As a family-owned business, we take great pride in our work and have customers who have returned and referred us to new clients (see our "Client Feedback" page). We always communicate with our customers and familiarize them with the materials we use.